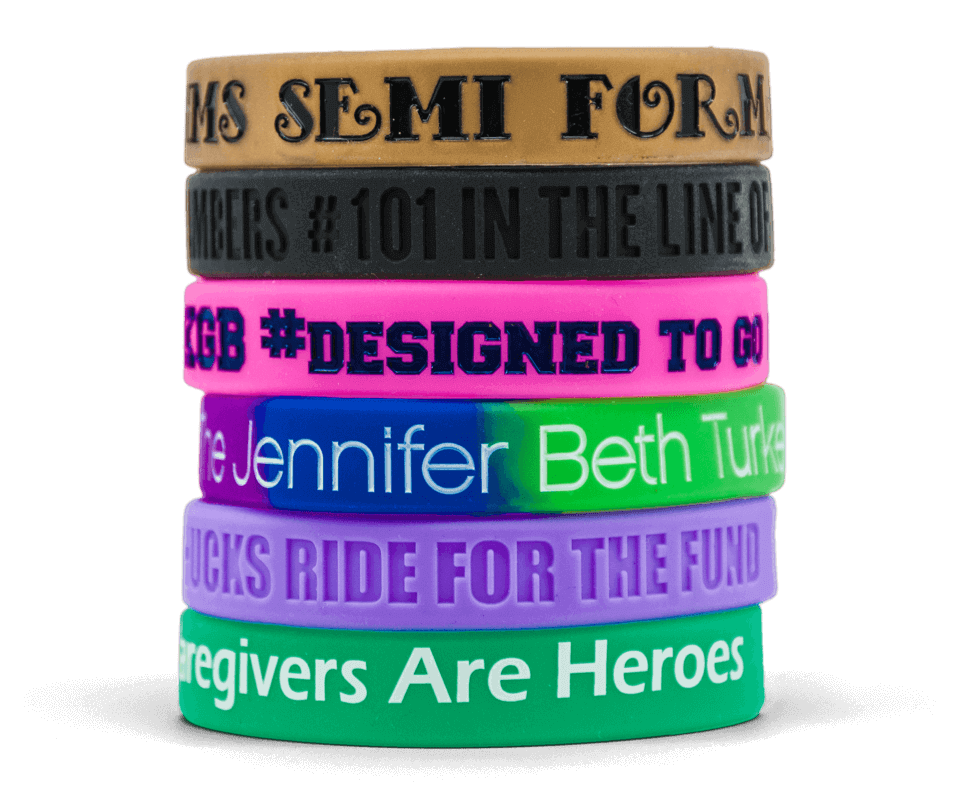 Custom Wristbands
Advertise your business, promote an event, or raise funds for your charity, school or sports team.

Multiple colors, sizes, and styles mean you're able to fully customize your wristbands.

Zero setup fees on all wristbands and free shipping (minimum order required) gives you the best value.

With thousands of satisfied customers, we are your Number One source for custom wristbands!
Welcome to The Wristband Factory
Custom wristbands are a simple and effective way to advertise a business, raise funds for a school trip, promote your charity organization, and much more! Available in hundreds of color, style, and size combinations, custom wristbands are bright, colorful, and catch the eye. The-Wristband-Factory.com has everything you need to design custom wristbands you're proud to show off to the world. We've designed hundreds of thousands of wristbands for clients all around the world. We'll work with you every step of the way, making the buying process quick and easy. Get your custom wristbands from us with the confidence you'll receive top quality wristbands at affordable prices!
More Choices, More Versatility
The-Wristband-Factory.com is proud to have plenty of customization options for your wristbands! No matter what your message or design is, we'll work with you to make sure it looks great on your wristbands. We offer a wide selection of wristband colors, sizes, and styles for you to choose from. Made from 100% medical-grade silicone, our wristbands are durable and long-lasting. At The-Wristband-Factory.com, we offer free artwork and design and unlimited revisions, meaning your wristbands don't ship until you're completely satisfied with your design. Better yet, we offer free shipping to any address in the continental United States (minimum order required). You'll find the best value in custom wristbands right here at The-Wristband-Factory.com!