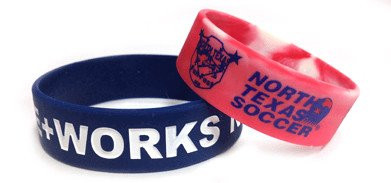 Back to School Wristbands
If you're an educator, you're gearing up for the coming school year. If you want a way to boost school spirit, enhance educational programs, or even raise funds, back to school wristbands are a fantastic investment.
Custom silicone wristbands are outstanding for use in a school environment. Younger students enjoy wearing them. Older students don't mind wearing them to show support for their school, club, program or cause. And they can be sold as fundraisers to support those causes.
Spirit Wristbands
If you want to get your school year off to a great start, go for school spirit wristbands! Pass out wristbands imprinted with the school name and mascot the first week, and see school spirit soar. Watch your students rock the wristbands with style.
With a choice of wristband styles, you can really get creative with your back to school wristbands, too. From the most basic debossed bands to color-filled, swirled, tie-dyed and embossed designs, you can craft custom wristbands that your students will love. And they can show their school pride wherever they go!
Back to School Wristbands for Fundraising
When you need to raise funds for teams, bands, class enrichment or other programs, custom wristbands are an ideal way to raise money fast. You can order custom wristbands with your school logo for pennies apiece in bulk, then sell them for $5 or even more each. Best of all, unlike many fundraising programs, your school keeps the profits. You don't have to send 60% or more to a third party. The returns add up fast!
You can sell fundraising wristband for charitable causes as well. One school in Ohio a few years ago raised $5,000 for Haiti earthquake relief in just three weeks of selling wristbands. It's a fun, easy way to help your students learn the value of helping others.
Red Ribbon Wristbands
Of course you have red ribbons for Red Ribbon Week. But consider the benefits of adding custom red wristbands as well. These back to school wristbands are a way to increase participation in this important event even more. Better still, the wristbands can be an ongoing way to remind your students of the importance of making good decisions. They're attractive, affordable and inspirational. Don't miss out on the opportunity to add these to your Red Ribbon Week program!
When you need back to school wristbands, you can count on The-Wristband-Factory.com to provide the best wristbands at the lowest price, and with the finest customer service you can get! Call us today, toll free at 866.460.9411, or email us at [email protected], to find out how we can make this school year the best one yet for you and your students!