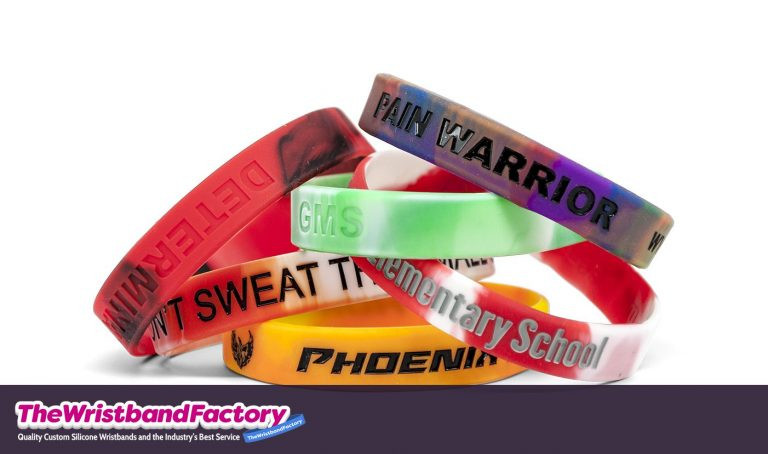 Cheap Silicone Wristbands are Your Best Value!
Are you shopping for cheap silicone wristbands? If you are, may we respectfully suggest an alternative phrase: high-value silicone wristbands?
Let's face it, the word cheap can carry negative connotations. That's why we don't like it. You don't have to pay a lot for custom wristbands. But you DO have a right to expect a high level of quality in the product you receive. At The-Wristband-Factory.com, our prices are the best in the industry. But there's nothing "cheap" about the first rate wristbands we produce.
Cheap Silicone Wristbands Are High Quality
We use only 100% medical grade silicone to craft your custom wristbands. It's durable, comfortable to wear and hypoallergenic. Lesser materials just can't match the quality of even cheap silicone bracelets.
That's only the beginning. We don't cut corners anywhere on our custom wristbands. Our graphic artists are some of the best in the business. Whatever you want your wristbands to say, we'll make it happen. We can advise you on the best style for your specific needs, based on the message or logo you want to feature. We'll work with you every step of the way, with free artwork and revisions. We even offer free shipping to any address in the continental U.S.A. (minimum order required.)
We stand behind our products too. Our 100% Satisfaction Guarantee backs up every custom wristband we sell. If you receive a wristband that's defective in materials or workmanship, let us know and we'll replace it at no extra charge to you.
As you can see, "cheap silicone wristbands," when ordered from a reputable supplier like The-Wristband-Factory.com are actually high-value silicone wristbands. We stake our business on keeping our customers satisfied, no matter how much or how little they spend on custom wristbands.
So what are you waiting for? If you're in the market for custom wristbands, call us today, toll free at (866) 460-9411, or email us at [email protected]. No matter what you call 'em, we have the highest quality wristbands, at the lowest prices, and with the best customer service in the industry!