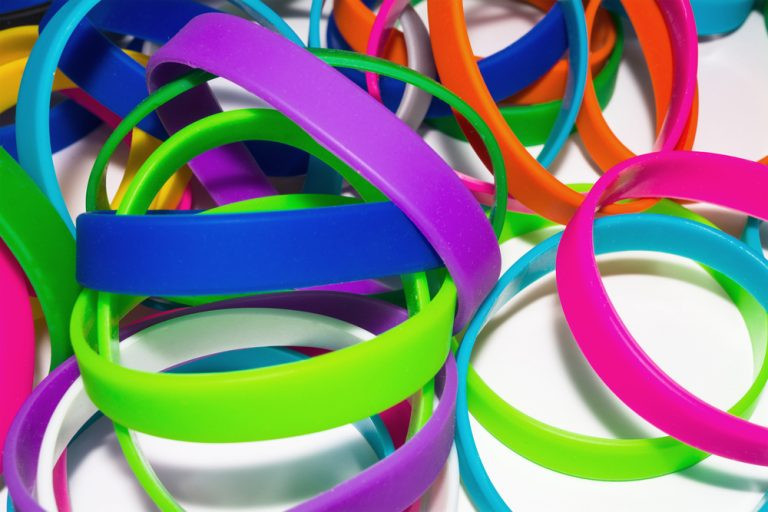 Debossed Wristbands: Classic looks, Great Value
OK, you know custom silicone wristbands are an excellent way to raise funds and promote a cause. Yet you're not sure which wristband style to choose. Should you pick debossed, embossed, color filled, or color coated?
At The Wristband Factory, we recommend starting with the basics: our standard debossed wristband. It's our best-selling style by far, and our most economical. It's a simple yet powerful way to get your message across that won't break the bank.
Who's Deboss?
(Yep, we had to go there. Sorry.) Deboss, in this case, isn't the person in charge. It simply means that your design or text is pressed or stamped into the silicone bracelet material. The message is recessed below the surface of the wristband. It's the opposite of "emboss," in which the lettering is raised above the wristband surface.
The debossed style is the simplest one to create, which is why it's so economical. The classic example of a debossed wristband is the legendary yellow one with the "Livestrong" message.
Why Debossed Makes Sense
The appeal of debossed wristbands lies in the simplicity of the style. There's nothing to distract from the message. It doesn't shout. There's no color, no raised lettering. The only thing present is the message, logo or design you want people to see. It's a clean look that wears well.
There's a reason debossed wristbands are the most economical style. It's a fast, simple production process. That makes it affordable for schools, clubs, teams, and others working with limited budgets. If you're selling them for a fundraiser, debossed wristbands give you the greatest return on your investment. The more you buy, the lower the per-unit price. That boosts your potential return.
Wristbands Raise Cash – Fast
The fundraising power of wristbands is such that they have been adopted by schools, nongovernmental organizations and many other groups around the world. Even individuals trying to raise cash to cover medical expenses for themselves or family members have sold debossed wristbands. They're a low cost, high return way to raise cash, and donors receive a small token of appreciation they can wear to show their support. It's a win for both parties.
Examples abound of the fundraising prowess of custom wristbands. The biggest, of course, is the Livestrong wristband. With one color – the classic yellow – and just a single debossed word, it's the wristband that has raised millions of dollars for cancer research and patient support. From its beginning in 2004, it has become a world-renowned symbol of the fight against a deadly disease.
Lady Gaga knows firsthand the power of wristbands. The singer had wristbands made two days after the massive earthquake and tsunami that struck Japan in March 2011. Sales of the wristbands at $5 each through Gaga's website raised $250,000 in the first 48 hours. Eventually, the simple wristbands with the words "We Pray for Japan" raised approximately $1.5 million for emergency relief efforts.
Closer to home, an Ohio school decided to sell debossed wristbands to raise funds for Haiti relief efforts following the devastating 2010 earthquake in that island nation. Students and teachers raised $5,000 in less than three weeks.
Other Styles
Debossed wristbands are great, it's true. But there are other equally terrific styles you might want to consider as well.
Color Filled wristbands fill in the engraved areas of your debossed wristbands with paint. You can choose both the paint color and wristband color to give your message extra visual presence.
Color Coated wristbands flip the script on the color filled style. The surface of your wristband is coated with paint before your design is engraved. Then, when your message is engraved, it shows through in the original color of the silicone wristband. It's a bold look that helps your message stand out.
Embossed wristbands, as noted above, raise the lettering of your message above the wristband surface. Your text or logo will literally stand out from the wristband, giving it a unique visual appeal.
Keep in mind that wristbands are available in a range of sizes too, from "skinny mini" micro bands to big, bold, brash one-inch bands. Your custom wristband supplier can help you choose which size is right for your specific needs.
When you're choosing a supplier for your debossed wristbands (or any other style), look for one that won't charge you for artwork or revisions, doesn't charge a setup fee and uses only 100% medical-grade silicone for your wristbands.
The Wristband Factory offers all those features for every wristband type we sell, and we stand behind all our products with our 100% Satisfaction Guarantee. We also offer free Pantone® color matching on all orders. We even offer free shipping on non-rush orders (minimum order quantity required).
Want to find out more about debossed wristbands or any of the other terrific wristband styles we offer? No problem! Just fill out our no-obligation Free Quote form on this site, or call us (always toll-free) at 866.460.9411. We're happy to answer your questions and serve all your custom wristband needs!